In DAB the information like audio is transmitted digitally. The receiver obtains the bits by a calculation of an angle of a subcarrier with its predecessor. Ideally, this angle has one of the four values 45°, 135°, -135°, -45°. These four possible values correspond to two possible bits with the values 0, 1, 2, 3. The arrangement of the bits with respect to their angles is called "constellation".
Usually the constellation is displayed showing the bits as dot heaps in a polar diagram, like in the following picture, from a report by Andreas Müller, ETH Zurich.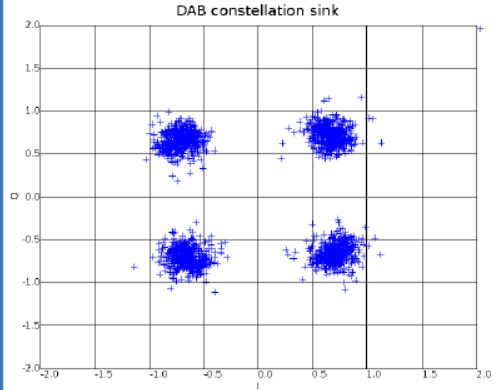 The dot heaps show the single bits, the heaps being separated by 90 Degrees.
QIRX uses a different, linear display for an improved visual control of the synchronization accuracy.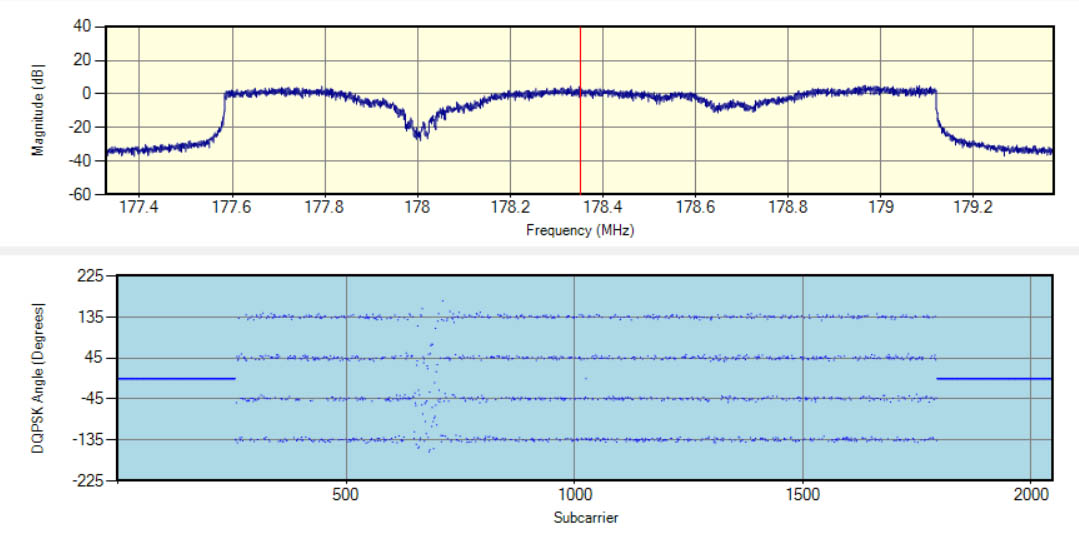 The picture shows an example: The spectrum (upper part) shows regions of strong multipath reception reducing the signal strength around 178 MHz. The constellation (lower part) shows – for each subcarrier – how well the bits are arranged on their correct position. Each dot corresponds to a single bit value. The reduced signal strengths around 178MHz clearly shows a much larger scattering of the bits off from their correct values. In a polar display it would not be possible to assign regions of large scattering to the frequency regions (subcarriers) with reduced signal strength.
This kind of constellation display can be used to obtain additional information.